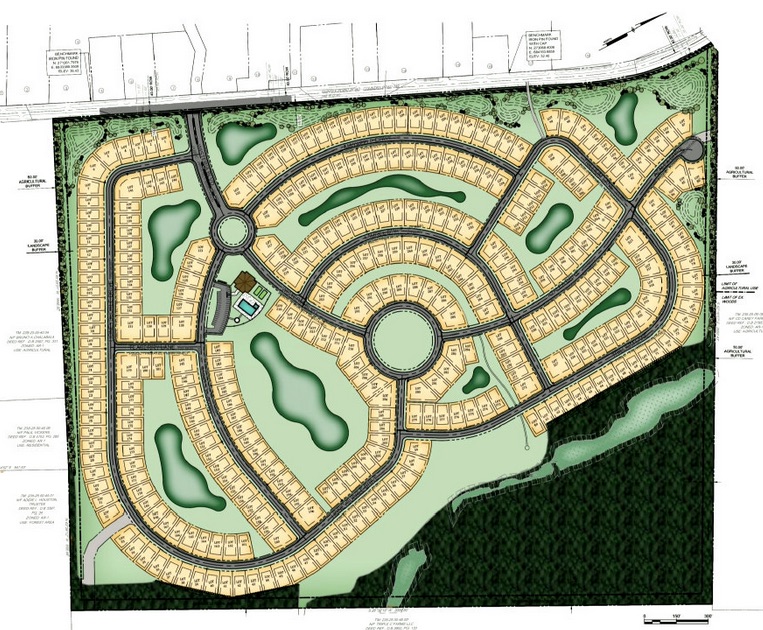 Another subdivision is on the drawing board in the Milton area.
At its April 14 meeting, the Sussex County Planning & Zoning Commission heard plans for Four Winds Farm, a proposed 336-single-family lot cluster subdivision on a 169-acre parcel along Shingle Point Road about one mile south of Harbeson Road and Milton town limits.
The owner of the parcel is Spring Garden LLC of Milton.
Jim Fuqua, representing developer Riber Development LLC of Millersville, Md., said plans for the subdivision include a 65-foot setback buffer from a 3-acre section of nontidal wetlands in the northern part of the property, 86 acres of open space, central water and sewer provided by Artesian, fire hydrants inside the community and along Shingle Point Road, a recreation area with a 6,500-square-foot clubhouse, pool and deck, tot lot, sports courts and 40 parking spaces, a park area in the middle of the community and a trail to overlook the wooded/wetlands area.
All amenities would have to be completed on or before issuance of the 140th building permit. Lot sizes would range from 7,500 square feet to 15,600 square feet with an average of 8,875 square feet.
A 50-foot buffer, with 30 feet of landscaping, is planned along the northern, eastern and southern boundaries, and 28 acres of an existing 31-acre tract of woods would not be disturbed.
The developer would also construct a 4- to 6-foot berm along Shingle Point Road, as well as a 12-foot paved emergency vehicle access to Shingle Point Road in the northern section of the parcel. The plan includes dedicated easements for future connector roads to currently undeveloped properties to the east and north of the site.
DelDOT is requiring the developer to provide a 5-foot bike lane at the site access along Shingle Point Road, a 10-foot shared-use path along the property's frontage and contribute to a proposed traffic signal at the Route 30-Shingle Point Road intersection.
At the Shingle Point Road intersection, a 185-foot southbound left-turn lane and 210-foot northbound right-turn lane would be required.
At the end of the hearing, the planning & zoning commission deferred a vote to a future meeting.
For more information, go to https://bit.ly/3MrKSHb.